Adv. Richard Bardenstein runs an international and domestic practice, devoted primarily to commercial transactions, contracts, representing Israeli companies pursuing global growth strategies, and representing foreign entities active in or entering the Israeli market (banks, funds, manufacturers, family companies, governmental agencies, charitable foundations, high-net worth individuals).
His practice areas include corporate finance, commercial contracts, private equity and venture capital, administrative and regulatory matters (representing clients before government bodies, from the local to the Cabinet level), commercial and civil litigation, alternate dispute resolution (mediation and arbitration), non-profits, estates and succession planning. Clients include banks and other financial institutions, VC funds, Fortune 100 companies, tech startups, foreign governments, Israeli government ministries, international consortia in public tenders, energy and natural resource conglomerates (oil and gas, mining), international religious institutions, hospitals, international media organizations, charitable foundations, high net worth individuals and NGOs.
Adv. Bardenstein has a BA from the University of Michigan (highest honors) and a JD from Yale Law School. He articled at the Israel Supreme Court (President (ret.) Aharon Barak and Justice (ret.) Eliyahu Matza) and for Adv. Dan Avi-Yitzhak (1989-91), and has been a member of the Israel Bar since 1991. After working at the law offices of Gilad Sher for several years, Adv. Bardenstein opened an independent office, largely serving private commercial clients and advising public entities. Among other things, he served as an Advisor to three Ministers of Justice (1995-98) and as an Advisor to Prime Minister Ehud Barak (1999-2001).
He has been a legal commentator for CNN and other international networks, and has lectured on legal topics in Israel and North America. He currently serves on the Board of the Michigan-Israel Business Bridge, and has served on the International Relations Committee and the United States Subcommittee of the Israel Bar Association, and as a member of the Board of the Jerusalem International YMCA.
​
RICHARD BARDENSTEIN, ADV.​
Ro'i (Igor) Fishman, Adv. is an LL.M. graduate of the Faculty of Law at the Hebrew University of Jerusalem, and has been a practicing accountant for 30 years. He brings a creative approach to handling client matters in the areas of taxation, companies, labor law, bankruptcy, class actions and administrative law. He also has native fluency in Russian.​
IGOR FISHMAN, ADV. (CPA)​
Adv. Dov Yurowitz has an LL.B. from the Faculty of Law and an M.B.A. from the Manchester University Extension in Israel. He became a member of the Israel Bar in 2001, and was licensed as a mediator by the Kiryat Ono Academic College in 2009.
Before joining the firm, Adv. Yurowitz worked at leading law firms in Tel Aviv, in civil and commercial litigation, real estate, bankruptcy, corporate reorganization and banking law. He has particular expertise in litigation on behalf of and against banks, bankruptcy proceedings, and commercial litigation generally.
In addition, Adv. Yurowitz's experience in corporate reorganization focused on companies in the infrastructure and construction industries, where he gained significant experience in managing companies, negotiating settlements with banks and vendors. He also developed experience in real estate transactions of all sorts, including complex transactions in all areas of the country.
​
Adv. Ohayon has an LL.B. in Law from the College of Management in Rishon Letzion. She has taken CLE courses in antitrust at Oxford University. She became a member of the Israel Bar in 2013. Adv. Ohayon articled at the firm of Tulchinsky, Stern, Marciano Cohen Y Co.
Her practice focuses on civil and commercial law, family law, labor law and real estate, including in litigation before the civil and Rabbinical Courts, mediation and negotiating agreements, in Hebrew and English.
​
Adv. Vera Kirstein has a degree in Law from the Byelorussian University in Minsk. In Belarus, Adv. Kirstein's practice dealt mainly with representing companies and labor law. Following her aliya, she articled at the firm, focusing mainly on family law matters, including litigation before the civil and Rabbinical courts. Today she works as an independent lawyer in cooperation with the firm, specializing in family law, labor law and real estate. ​
Adv. Ronnie Cohen handles real estate transactions and projects, representing developers, contractors, buyers' groups and landowners. He also specializes in family and matrimonial law, wills and estates, and complex litigation.
Adv. Cohen is a graduate of the Hebrew University Faculty of Law in 1996, and has been a member of the Israel Bar since 1997. He began his career as an articled clerk at the law offices of Shimron, Molcho Persky (1996-7), where he trained in most areas handled by the firm, including commercial law, real estate, building and planning, corporate law, mergers and acquisitions, bankruptcy, and more. Following his clerkship, Adv. Cohen worked at the office of Yaron Rabinovitz (1997-2000), where he focused intensively on litigation in diverse areas of civil law.
Since 2000 Adv. Cohen has run an independent law office, specializing in complex real estate and commercial projects, and in litigation, primarily in the fields of real estate, commercial law, matrimonial law and inheritance. The firm has grown steadily over the years, and today serves hundreds of commercial, public and private clients.
Adv. Cohen has native proficiency in English, which comes to bear in all areas of his practice.
​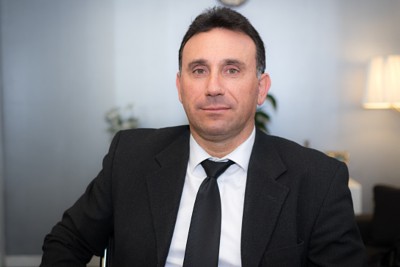 RONNIE COHEN, ADV. – HEAD OF OFFICE​
Ms. Ansbacher has an LL.B. and an M.B.A. from the Ono Academic College, finishing her studies in 2016. Since 2003 she has worked at a real estate development group that owns and manages commercial and private properties in Israel and abroad. In this capacity she has managed large development projects, from negotiation of agreements to managing work crews, dealing with regulatory and tax issues, registering land rights and more.​
Adv. Chenia Stolberg has LL.B. and LL.M. degrees from the Law Faculty of Bar Ilan University. She articled at the Jerusalem District Court, with Judge Moshe Ravid, and became a member of the Israel Bar in 2000. She has also been accredited as a mediator since 2001.
Adv. Stolberg specializes in civil and commercial law, real estate, family and labor law, including in litigation, negotiations, mediation, and drafting agreements, in Hebrew and English.
​